As my body is able to do more and more in workouts I am more and more interested as to what is actually going on inside my body during those workouts.
I knew that heart rate had a lot do with calories being burned and metabolism speed during and after the workout. I had taken a class at Orange Theory, where you wear a heart rate monitor right underneath your chest to track your calorie burn. I had read that those types of monitors aren't good for your vital organs so I decided instead to get a watch/wrist heart rate monitor.
I bought Sketchers Go Walk Watch and Heart rate monitor offline with a groupon for around $13. I immediately began to track my workouts to see which ones challenged me the most and how much more I could amp up my workouts to get the most benefit. (hey, if you are going to wake up that early you might as well make it worth the effort!).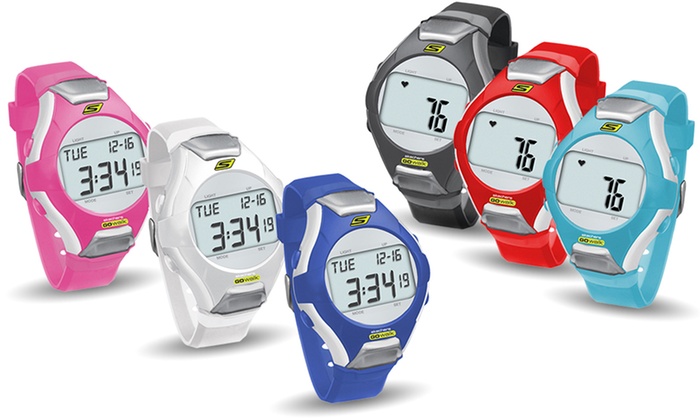 So first of all I did some research...
1. Your heart rate is your bodies response to the need to maintain a metabolic rate that will deliver oxygen and nutrients to your body.
2. Anytime you raise your heart rate and keep it there you are considered to be doing cardio exercise...vs bodyweight or weight training.
3. When you raise your heart rate you are asking it to supply more and more oxygen to your muscles and thus your heart gets stronger.
4. The formula for finding your max heart rate is 220-age. This formula is old and some dispute it but its a good baseline measure. Therefore my max heart rate is 190..meaning I am working at 100%! This max heart rate though could vary drastically for a sprinter vs a long distance runner and depending on gender and physical fitness.
Based on this formula and my gender my heart rate zones look like this:
100%-190 (straining)
90%-171(max effort)
80%-152 (training or anaerobic modemode)
70%-133 (cardio /endurance mode)
60%-114 (fat burning/weight control mode)
resting heart rate is anywhere between 60-100
So off I went to the weight room to see how much cardio or training was involved in my weight room workout.
The workout will be in CAPS, my heart rate during the first round in italic and my heart rate during the second round in bold. I took my heart rate every 2/3 exercises.
My heart rate pre-workout was 62.
25 WEIGHTED SQUATS
20 WEIGHTED LUNGES
20 SINGLE LEG DEADLIFTS
HR-76
,
HR-116
20 MOUNTAIN CLIMBERS
20 WEIGHTED HIP BRIDGES
20 WEIGHTED CALF RAISES
HR-73
,
HR-108
5 BURPEES
20 DONKEY KICKS EACH LEG
20 SQUAT JUMPS
HR-127
,
HR-140
20 OPP. ARM/ OPP LEG EXTENSIONS FROM PLANK POSITION
40 REVERSE LUNGES
40 SCISSOR KICKS
HR-103
,
HR-112
15 BICEP CURLS
20 TRICEP DIPS
15 CHEST FLIES
16 ALT. SHOULDER LIFTS FROM FRONT AND SIDE
HR-88
,
HR-99
15 OVERHEAD TRICEP DIPS
15 HAMMER CURLS
10 PUSHUPS
15 BENT OVER ROWS
HR-94
,
HR-104
You can see that each time my heart rate rose by 10, meaning I was working harder and harder. The only breaks between reps that I took was to take my heart rate and get water. My average was 112 which put me right at the fat burning zone and also means when I do these types of routines I burn around 400 calories an hour. Based on this I have added in more mountain climbers and burpees into my weight circuits to keep my heart rate soaring and get me more towards the training mode!!!
I also took my heart rate at noon that day, about 3 hours after I finished my workout at 9 and my resting heart rate was 74...much higher than before my workout which is proof that it increases your metabolism a good 8-10 hours after your workout....even if you are just sitting on the couch :).
The next day during my run on the treadmill I tested my heart rate only 3 times....its super hard for me to keep my balance and test my rate while running!!...and each time it was right at or over 160 which means I was pushing myself hard enough at a 9-10 min mile on an incline!!!
Isn't this fascinating? It is to me!!!!